apprenticeships
Scully and Scully are currently seeking apprentices...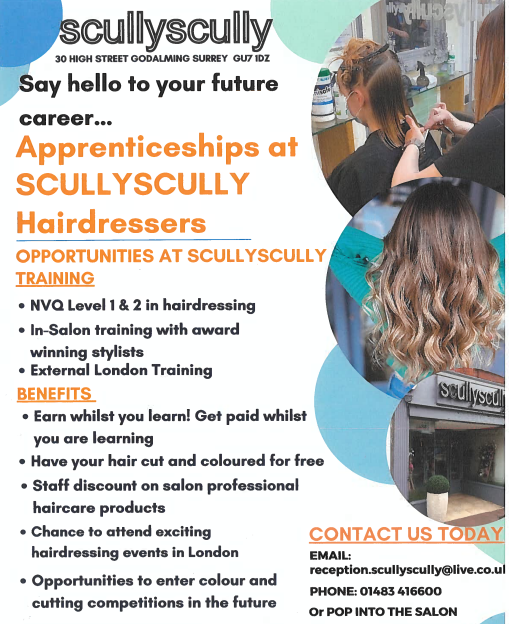 BBC Apprenticeships
The BBC is offering over 100 apprentice roles across the UK, on 15 different Level 6 (degree) and Level 7 (higher/masters) apprenticeship schemes in technology, journalism, business and production management. Go to Early careers at the BBC | Apprenticeship, Graduate, Trainee Schemes for more details. More apprentice opportunities (Levels 3-5) will be coming up next month so watch this space.
Army Apprenticeships
Amazing Apprenticeships is working in partnership with the British Army to support schools/colleges to inspire their students, families and colleagues about the exciting career opportunities and adventures that an apprenticeship in the Army can offer. Click HERE to find out more.

We will be bringing you a variety of exciting resources and information that will highlight the different apprenticeship opportunities available and what life as an Army apprentice is like, ranging from:
An exciting new film
A podcast feature
A series of webinars
Downloadable resources for students and parents/carers
We will also be taking a deeper look into how the Army Foundation College Harrogate helps 16-17 year olds to prepare for an exciting career in the Army, what support is available and how to access those opportunities.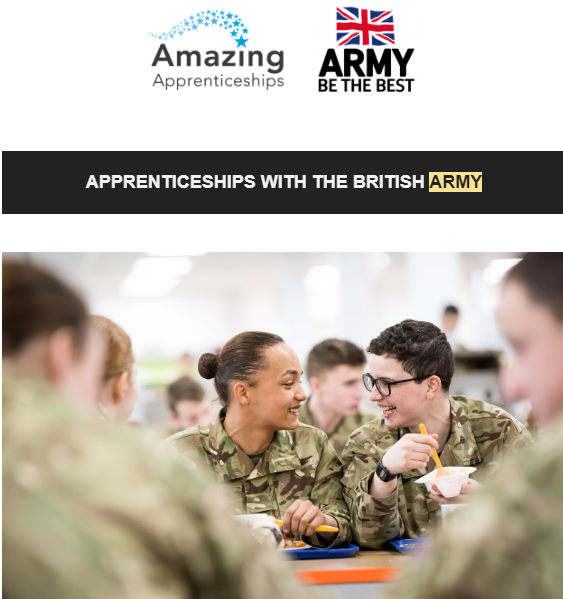 Upcoming Apprenticeship Events:
UK University & Apprenticeship Search Spring Events:
Both events will feature a multitude of exhibitors including Russell Group, red brick and modern universities, as well as apprenticeships representing top UK companies and local providers. Vital seminars will take place at these fairs including UCAS personal statement, degree apprenticeships and student finance. These campus events will also offer you and your students the special opportunity to experience what university is like first-hand.
The Surrey fair will be taking place on Tuesday 5th March at the University of Surrey - see details here.
The Kent fair will be taking place on Wednesday 24th April at the University of Kent - see details here
Activate Learning Apprenticeships:
Anyone interested in finding out more about Apprenticeships is encouraged to look at the Activate Learning website: Activate Apprenticeships | Award Winning Training Provider
Tips and Tricks for applying for apprenticeships... HERE
Check out upcoming Apprenticeship opportunities and National Apprenticeship Week events (scroll to the bottom)...
How apprenticeships work
Apprenticeships combine practical training in a job with study.
As an apprentice you'll:
be an employee earning a wage and getting holiday pay
work alongside experienced staff
gain job-specific skills
get time for training and study related to your role (at least 20% of your normal working hours)
Apprenticeships take 1 to 5 years to complete depending on their level.
Levels of apprenticeship
Apprenticeships have equivalent educational levels.
| | | |
| --- | --- | --- |
| | Level | Equivalent educational level |
| Intermediate | 2 | GCSE |
| Advanced | 3 | A level |
| Higher | 4,5,6 and 7 | Foundation degree and above |
| Degree | 6 and 7 | Bachelor's or master's degree |
Higher Level Apprenticeship
Some apprenticeships may also give you an additional qualification, such as a diploma. Click HERE to see some examples of higher level apprenticeships.
Who can start an apprenticeship
To start an apprenticeship, you'll need to be:
16 or over
living in England
not in full-time education
You can apply for an apprenticeship while you're still at school but you'll need to be 16 or over by the end of the summer holidays to start the apprenticeship. You can find out more information HERE
Check out upcoming LIVE Apprenticeship opportunities in the documents below...