Valentino's
VALENTINO'S UNIFORM SHOP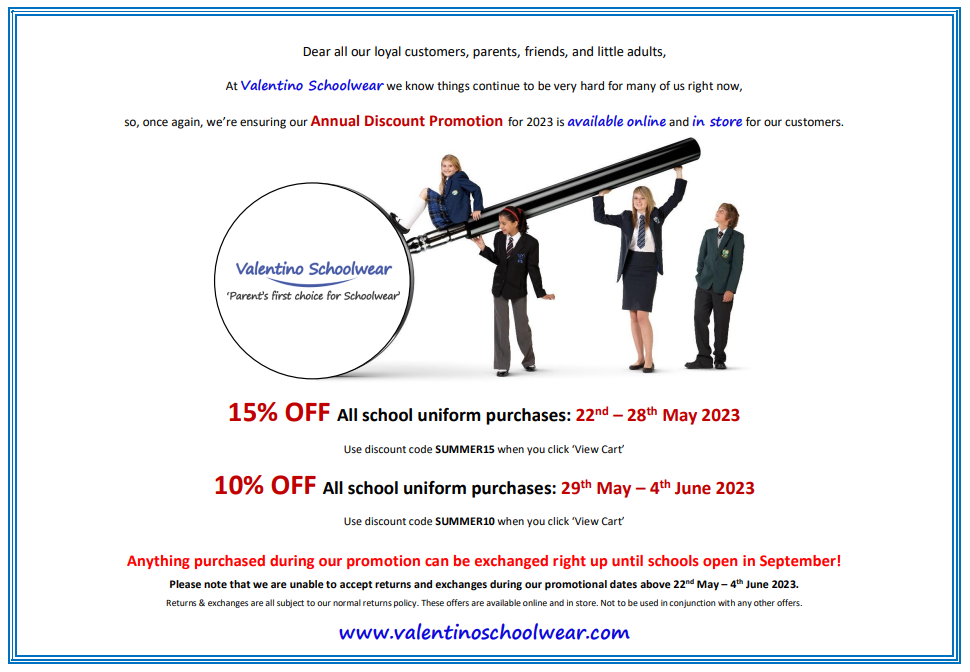 School skirts, blazers, ties and badges for blazers can be purchased from Valentino Schoolwear. All other uniform can be purchased from other suppliers. Valentino's are a local company and have been supplying schoolwear since 1939. Mario, Marianna and the team are proud of their reputation for supplying quality schoolwear and accessories to local schools. They offer an efficient friendly service to assist with all your uniform requirements.
**Please refer to our Uniform Page first before ordering**
Contact Valentino Schoolwear
Address: 23-29 Broadway, Knaphill, Woking, Surrey GU21 2DR
Opening hours: Monday to Saturday
9am - 5.30pm
How to order schoolwear
You cannot purchase uniform directly from school. Purchase of uniform can be done in the following ways:
By visiting Valentino Schoolwear premises in Knaphill.
By ordering on-line from their website www.valentinoschoolwear.com
Please note that Valentinos does not accept cheques as a means of payment. Items can be purchased with cash or a credit/debit card.
Zips on skirts can break when girls roll the tops of the skirts to make them shorter! Please be aware of this.
Orders received by 3.30pm on Wednesdays will be delivered free of charge to the school every Friday during term time. Alternatively they can be delivered to your home for a £5 charge.